Restorative Dentist for Deer Park Residents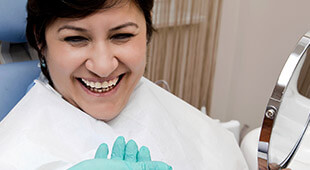 When your smile is affected by decay, damage, or infection, you can trust Dr. Jane, Dr. Peck, and the whole team at Deer Park Family Dentistry to help you get your smile back on track. We combine a compassionate approach with our top services in restorative dentistry. Dental problems can happen to the best of us; the important thing is to seek treatment as soon as possible. We restore the health of your smile with the following services:
Dental Crowns and Bridges
Dental crowns and bridges are a wonderful solution for restoring severely decayed or damaged teeth, or for replacing one, two, or several missing teeth. Usually made of porcelain or ceramic, the size, shape, color, and texture of your crown or bridge is highly customizable to blend flawlessly with the rest of your smile.
Dental crowns are thin, tooth-shaped caps that fit snugly around the damaged tooth. They can help hold together pieces of a broken tooth, restore a severely decayed tooth, improve the aesthetics of an imperfect tooth, or serve as anchors for a dental bridge.
Just like the name suggests, dental bridges replace one, two, or several missing teeth by creating an actual bridge over the empty space. A crown placed on either side of the gap acts as an anchor, stabilizing the prosthetic teeth that fill in the space between.
The treatment for crowns and bridges is typically completed in two visits to Deer Park Family Dentistry. The first appointment is necessary for planning the treatment and preparing the teeth, and the second is for the final placement. For their excellent restorative applications, dental crowns and bridges are a wonderful solution for solving a number of dental problems.
Learn More about Dental Crowns and Bridges
Root Canal Therapy
At Deer Park Family Dentistry, our goal is always to save the natural tooth whenever possible. Root canal therapy allows us to avoid extraction and maintain the tooth in cases of extreme decay or damage. Patients often dread this treatment, but using the latest technology and offerings in sedation dentistry, we can just about promise that the procedure is nothing compared to the original ache.
To perform a root canal, your Deer Park family dentist performs a series of simple steps. Depending on the severity of your infection, the treatment for a root canal may take two appointments to complete.
Root canal therapy consists of the following steps.
Anesthesia and sedation are administered to make sure you're completely comfortable.
Your dentist will create a small access hole in the infected tooth.
Through this hole, the infected pulp and nerve will be removed.
The inside of the tooth is shaped and filled (sometimes carried over into another visit).
A filling and final restoration are placed on top of the tooth.
The recovery following root canal therapy usually lasts only a few days. Pain medication, ice packs, and a soft food diet can help increase comfort and speed healing in the meantime.
Wisdom Tooth Extractions
When wisdom teeth decide to erupt, their appearance can cause real, painful problems. If there's not enough room for them to fully emerge, the surrounding teeth can suffer from crowding. Impaction and infection are also likely to occur from problematic wisdom teeth. What's the solution to these problems? More often than not, wisdom teeth extractions are the only way to find relief and prevent future orthodontic issues. At Deer Park Family Dentistry, we take care of your extraction with expert hands and can make sure you're fully comfortable throughout the procedure with anesthesia and sedation. When it comes to wisdom teeth extraction, there's no need for outside referrals from our office -- our team of doctors can handle everything under one roof.
Learn More about Wisdom Tooth Extraction
Dentures and Partials
If you've experienced tooth loss, finding a good replacement is the most important thing you can do for your health, your confidence, and your sanity. Dentures and partials from Deer Park Family Dentistry are a wonderful way to replace several teeth or even a whole row. These prosthetic teeth attached to a gum colored base restore your ability to eat, speak, and smile with ease once again. Dentures can be supported by suction, brackets, or with a denture adhesive. Alternatively, for added stability and increased oral health, dental implants can retain partial and full dentures.
Individuals and families from Deer Park, Pasadena, La Porte, Seabrook, and Galena Park count on Deer Park Family Dentistry's restorative dentistry. Contact us to schedule your appointment today!