Implant Retained Dentures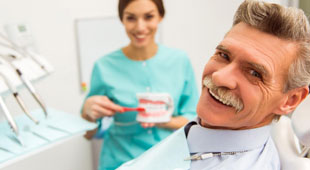 Dental implants have dramatically impacted the tooth replacement process. These tiny, titanium posts are inserted into the gum line where they fuse with the jaw and soft tissue mimicking tooth roots. Dental implants are the only tooth replacements that restore the roots as well as the crowns of missing teeth. That means patients with dental implant supported prosthetics achieve a more natural look and feel. For implant retained dentures, this supportive structure improves speech and chewing ability not to mention increasing smile confidence. Keep reading to find out more about implant retained dentures available from the Deer Park Family Dentistry team.
Implant Denture Process for New Denture Wearers
For patients who are newly in need of dentures, the implant supported denture process may take a little longer. We begin by preparing the smile. This may include removing one or more teeth and treating existing oral health issues like gum disease. Then, your dental implants are surgically placed. A protective cap covers the implant post to protect the healing site and prevent the gum tissue from closing over the implant. In three to six months, your implant posts will be fully fused with the jawbone, but during this waiting period, we'll begin to design and craft a custom denture. Once the implant has fused with the supportive tooth structures, you return to have your new prosthetic fitted to the implant posts.
Implant Denture Process for Current Denture Wearers
If you already have a partial or full denture, we may be able to use your current prosthetic to expedite the dental implant process. In many cases, we can have the existing denture refitted and attached to implant posts. Even if we do need to create a new denture, you can typically wear your existing denture following the dental implant placement procedure. This means you won't be without your smile during the waiting period as your implants fuse with the jawbone.
Benefits of Implant Retained Dentures
There are numerous benefits associated with implant retained dentures. Some of the most common include:
More natural appearance and improved confidence when sharing your smile
Less slipping or movement to improve speech and chewing ability
Dentures last longer and need to be reshaped or refitted less often saving you time and money
Caring for an Implant Retained Denture
You should not need to significantly change your daily oral hygiene routine to keep your denture healthy. The most important thing is to use a soft or ultra soft bristled toothbrush and minimally abrasive toothpastes. This protects your prosthetic teeth from unnecessary wear. Don't hesitate to ask our team for a demonstration of proper implant retained denture care. We are also happy to provide recommendations for the best oral hygiene products.