Periodontal Treatment in Deer Park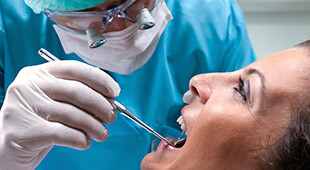 Gum disease (also known as periodontitis) is a condition that affects the majority of Americans over the age of 35. In fact, approximately 75% of adults have the condition to some extent, with tobacco users having an especially high risk for the condition. Are you unknowingly suffering from gum disease? Learn the symptoms and you'll be able to seek periodontal treatment for relief sooner.
Common signs you're dealing with gum disease include:
Swollen, red or tender gums
Gums that bleed frequently (especially after brushing and flossing)
Chronic bad breath
Gum recession (gums that appear to be pulling away from the tooth)
Increased tooth sensitivity
Left untreated, gum disease has been linked to far more serious conditions, including heart disease, diabetes, and even breast cancer. If you suspect you're suffering from gum disease, don't wait to benefit from periodontal treatment at Deer Park Family Dentistry.
How Gum Disease Therapy Works
Your treatment plan for gum disease will depend on the level of your infection. In its earliest stages, gum disease is known as gingivitis and can be reversed with vigilant oral care, as well as a few extra visits to the dentist's office. As the condition develops, a deep cleaning known as scaling and root planing may be necessary. This is a non-surgical treatment in which plaque and tartar buildup is removed from above and below the gumline. Antibiotic treatment may be included with scaling and root planing to control infection.
In more severe cases of gum disease, surgical treatment may be necessary. Whatever it is you need, the most important thing is to seek a solution quickly. At Deer Park Family Dentistry, we invite those from Deer Park, Pasadena, La Porte, Seabrook and Galena Park to contact us to learn more about gum disease and periodontal therapy today.