Preventive Dentistry in Deer Park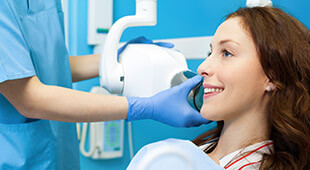 You can stop dental problems from happening in the first place with regular preventive care. But what does that entail, exactly? Brush your teeth for two minutes at least twice a day, floss daily, and visit our team for a check-up and cleaning every six months. These oral hygiene habits will help you enjoy fresh breath and healthy teeth and gums for years to come! We help patients in Deer Park, Pasadena, La Porte, Seabrook and Galena Park keep away dental problems with the following services in preventive dentistry. Call us for your appointment today!
Checkups and Cleanings
When you come in for a checkup and cleaning (as with any other visit to our office), you won't spend any extra time waiting -- we know you've got plenty of other things to do in addition to making sure your oral hygiene is strong. Once you're settled into the dental chair, we'll begin by discussing any necessary information related to your oral health. Have you had any pain recently? Increased sensitivity? Aside from that, how's life?
After we're all caught up with your oral health, the work begins. Your dental hygienist will thoroughly remove plaque and tartar buildup and then take X-rays for a more complete image of your mouth. Your dentist will take this information and perform a visual check to look for signs of decay or gum infection. If any problems are present, we can make recommendations for restorative treatments as necessary.
After your cleaning and check-up is complete, you're walking out of our office with that clean-mouth feeling and the peace of mind that your oral health is in check!
Periodontal Treatment
It's an unfortunate fact that the majority of American adults suffer from gum disease. When your gums become infected, bad breath, bleeding and tooth sensitivity become the norm. Left untreated, these uncomfortable symptoms only worsen, and tooth loss and other serious health complications like heart problems and diabetes can arise as a result. The doctors at Deer Park Family Dentistry are highly experienced in periodontal treatment. Click here for more on how we treat gum disease.
Night Guards for TMJ/Bruxism Therapy
Problems with the alignment of the jaw (the TMJ, or the temporomandibular joint) can cause nighttime teeth grinding, a condition known as bruxism. Facial, ear, and head pain, as well as difficulty using the jaw normally, can occur as a result of these conditions. Fortunately, we can treat TMJ dysfunction and bruxism with a custom-fit removable nightguard. It's a small device you wear only during sleep, and it works by improving the alignment of your jaw while also shielding the teeth from excessive force. At Deer Park Family Dentistry, we've helped numerous patients find relief with this proven solution.
Dental Sealants
You already know brushing and flossing are vital for healthy teeth, but we've got an extra defense to help you prevent tooth decay. They're called dental sealants, and they're a quick treatment that shields your molars from the bacteria and acids that cause cavities. While they're especially useful in children, whose teeth are at a higher risk of decay, dental sealants can also help adults prevent tooth decay in the nooks and crannies of the back teeth. The sealant is painted directly onto the surface of the back teeth and dried with a special UV light. Once complete, the molars are protected from decay for years to come.
Oral Cancer Screenings
Early detection of oral cancer greatly increases the chances of successful treatment. Have you had an oral cancer screening recently? We recommend that adults have one every six months, and your Deer Park family dentist can perform this important preventive step alongside your regular checkup. Patients with one or more risk factors for oral cancer, like tobacco use, alcohol consumption, and frequent or prolonged UV exposure should especially stay on top of their regular oral cancer screening.
Athletic Sportsguards
It's no surprise that athletes' smiles are at an increased risk for trauma. In fact, most dental emergencies are related to athletic injuries. No matter the sport or the level of play, you should protect your smile and your loved ones' smiles with athletic sportsguards. Custom-fit for comprehensive protection, a mouthguard can help athletes maintain healthy smiles that are free from chips, fractures, and other trauma for years of play on the field, court, or track.