Dental Implants in Deer Park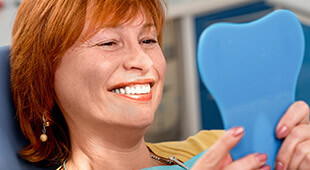 When you've lost a tooth, you haven't just lost the crown -- you're also missing the tooth's root. Dental implants give you back both. They are a comprehensive, whole-tooth replacement that provide wonderful stability and increased oral health too. This replacement option can support dental crowns, dentures, or other prosthetic tooth devices to give you back the healthy, confident smile you've been lacking.
Patients who have experienced tooth loss shouldn't wait to find out about their options with dental implants -- the sooner the teeth are replaced, the better. Keep reading to learn more about dental implantation and restoration from the team at Deer Park Family Dentistry.
Dental Implant Restoration
Once it's been determined that dental implants are the right option for you and your smile, we'll refer you to a trusted oral surgeon to handle the initial implantation. After the procedure is complete, you'll have a recovery period of about six months while the jawbone and dental implants gradually bond into one solid unit. When this process (also known as osseointegration) is complete, you'll come back to Deer Park Family Dentistry for the dental implant restoration process when we securely bond your new tooth replacement on top of your dental implants.
To complete the dental implant process with the final restoration, your Deer Park family dentist will take an impression of your mouth and the missing tooth and send it to our lab, where your new tooth replacement will be expertly crafted just for your unique smile. You'll visit our office once your device is ready for us to check for final fit, and if everything is as it should be, we'll attach your new tooth replacement, completing your dental implant treatment. In all, the process takes eight to ten months to complete. It's a significant investment in time, but one that is well worth it in the end.
Implant-Retained Dentures
If you already have dentures that aren't supported by dental implants, you likely know one thing for sure -- there's almost nothing worse than the stress of an ill-fitting prosthetic. You can eliminate the hassle of a loose denture and eat, speak, and smile with confidence once again by choosing implant-retained dentures. Not only will you enjoy the peace of mind knowing your teeth will stay in place no matter what you're doing, but dental implants also provide the stimulation your jawbone needs to stay healthy and whole. That helps you enjoy better oral health overall, meaning you'll never have to have your denture refitted to reflect the changing shape of your mouth.
Don't wait to learn more about your options with dental implants. Our Deer Park dental office is happy to provide excellent implant dentistry for patients in Pasadena, La Porte, Seabrook, Galena Park, and all surrounding areas. Call us to request your visit today!