Cosmetic Dentistry in Deer Park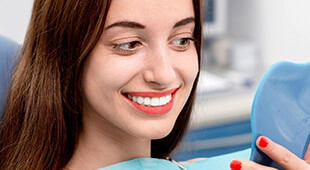 At Deer Park Family Dentistry, we believe you should enjoy teeth that look as healthy as they feel. Sometimes smiles need a little help sparkling bright – that's why Dr. Jane, Dr. Peck, and the whole team are proud to offer top-notch services in cosmetic dentistry. Whether it's a small improvement or a sweeping change you'd like to make, keep reading to learn more about how we can help you achieve the smile of your dreams!
At-Home Teeth Whitening
Some patients prefer to whiten their smiles more gradually from the comfort of their own home. For these cases, we are happy to provide professional at-home whitening kits. These systems are custom fit for truly excellent results, and they are far more powerful than what you can find over-the-counter at the pharmacy.
Wear the customized trays filled with bleaching gel every evening for about half an hour, and after the two week treatment is complete, you'll be flashing the dazzling, youthful smile you've always dreamed of. Patients can then maintain their results with excellent oral hygiene, including brushing for two minutes twice each day and flossing daily. For the very best results, try to avoid highly-pigmented foods and beverages (like red wine and dark berries) during and right after your whitening treatments.
Learn More About Teeth Whitening
Tooth-Colored Fillings
These days, having a tooth restored after decay or damage doesn't have to mean marring it even further with a metal amalgam filling. We offer tooth-colored fillings to restore your tooth so that it blends inconspicuously with the rest of your smile.
The benefits of these white (tooth-colored) fillings are numerous compared to the silver alternative. Some of the most common advantages include:
Composite resin perfectly matches the shade and texture of your surrounding teeth.
Tooth-colored fillings leave more of your natural tooth structure intact.
Silver fillings can make future breakage or cracks difficult to see, even with X-rays
There's absolutely no risk of mercury exposure with natural composite resin.
In addition to filling new cavities with tooth-colored fillings, we can also replace existing silver fillings with composite resin. You may not be experiencing any problems with your current metal fillings, but it's a simple procedure that can give you considerable peace of mind for your future oral health.
The same composite resin used in tooth-colored fillings can also have terrific cosmetic applications. Cosmetic bonding is an affordable alternative to porcelain veneers, and its use allows us to make small but impactful changes that help reveal your very best smile.
Porcelain Veneers
You can give yourself a beautiful smile do-over with dental veneers. These thin, porcelain caps are a highly effective way to cover imperfections that exist on the front surface of the teeth. Highly customizable, your cosmetic dentist can perfect the size, shape, and color of your veneers. We know not everyone wants a big, bright Hollywood smile; that's why we listen to your smile goals to help you reveal the look you've always dreamed of.
Front teeth that have suffered from chips, cracks, stains, slight gaps, or other imperfections can be transformed in just two visits to Deer Park Family Dentistry. Are you interested in porcelain veneers or another cosmetic treatment? Contact our office in Deer Park. We warmly welcome patients from Pasadena, La Porte, Seabrook, Galena Park and all surrounding areas.
Cosmetic Dentistry FAQs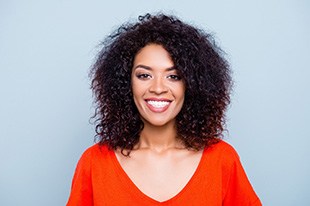 When it comes to having questions about cosmetic dentistry, it's important that you get the answers you're looking for before committing to any kind of treatment. Fortunately, at Deer Park Dental, our cosmetic dentist in Deer Park is here to deliver the clarification you need to feel confident about your future smile. Below is a list of questions and answers provided by our team that will help you to better understand the various aspects of cosmetic dentistry, but we encourage you to call our office if you need additional assistance and explanation.
Is Cosmetic Dentistry Expensive?
Cosmetic dentistry can be an expensive investment, but it is also a worthwhile one. Not only will you notice a substantial difference in your appearance, but the status of your oral health will also improve.
Based on your unique treatment plan, the cost associated with your treatment can vary based on the following:
Which cosmetic service(s) you choose
If you require any preliminary treatments before undergoing cosmetic care
How severe your imperfections are, as this will determine how much treatment you need
If your dentist is a trained cosmetic professional
How Can Cosmetic Dentistry Change Your Life?
While your initial desire might be to improve the aesthetics of your smile, knowing that you can also take better care of your oral health as a result of your cosmetic treatment is a special bonus. When you look good, it tends to make you feel better about yourself, which also leads to positive mental and emotional health. As you begin to notice the attention you receive as a result of your cosmetic treatment, you will want to take better care of your teeth and gums. This means adopting and adhering to good oral hygiene habits at home and keeping your regular six-month dental checkups and cleanings with your dentist.
Over time, your decision to choose cosmetic dentistry will have you enjoying a smile that not only looks beautiful but is also healthy year after year.
How Do I Know If I Need Cosmetic Dentistry?
Knowing whether you need cosmetic dentistry or not is ultimately up to you. If you have chips, cracks, stains, discoloration, misshapen teeth, minor gaps, or even slight misalignments, you're likely to be considered a candidate for treatment. However, you will need to undergo a thorough consultation with our cosmetic dentist. This will allow us to evaluate your smile and determine if any preliminary treatments are necessary beforehand. If you suffer from decay or gum disease, it will be necessary for us to address these issues before moving forward.
What is the Difference Between a Dentist and a Cosmetic Dentist?
Dentists of all kinds must obtain a DDS or DMD degree from an accredited university and be licensed to practice in their designated state. Once they complete dental school, it is their decision to pursue a specialization (i.e., orthodontics, pediatrics, prosthodontics, endodontics, etc.) or move forward with general dentistry. However, when it comes to cosmetic dentistry, it is not deemed a specialization. Instead, dentists must complete advanced training to offer and perform these types of services. Those who opt to learn more about cosmetic dentistry will likely spend many hours completing coursework and training to provide safe and beautiful results for patients.