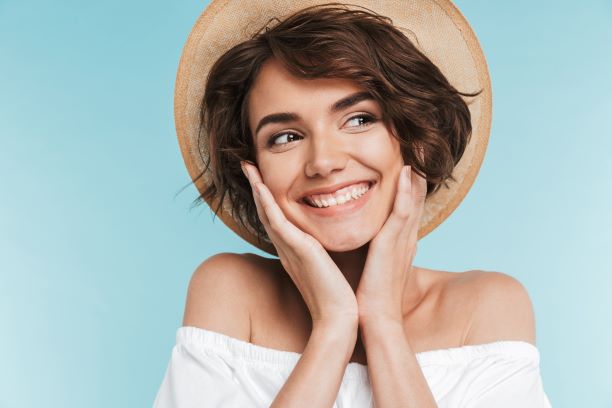 Teeth whitening and veneers are two popular smile enhancement options. Each has its share of benefits and considerations. But which choice is right for your needs? The answer will depend on many factors, including the condition of your teeth and your aesthetic goals. Both approaches are offered by most cosmetic dentist offices.
How Teeth Whitening Works
Most people can remember a time when their teeth were brighter. Unfortunately, the years have a way of dimming the luster of our pearly whites. Sometimes over-the-counter products are enough to correct the problem. Other times we need a little extra help.
This is where professional teeth whitening comes into the picture. These products work by breaking apart the bonds that hold stains together at the molecular level, bringing out your smile's natural beauty.
Most practices offer both in-office and take-home treatments, depending on the patient's schedule and priorities. At-home methods may take a little longer to achieve the desired results. But they also enable greater convenience and flexibility for the patient.
Prescription teeth whitening is generally more effective than non-prescription methods. But sometimes a patient's needs require a more comprehensive approach to smile restoration altogether. That's when veneers may come into the picture.
How Dental Veneers Work
Dental veneers are wafer-thin layers of porcelain that are custom-crafted to match each patient's oral profile. They're effective at masking the appearance of stains that resist conventional whitening methods. They're also a good choice for many other types of aesthetic challenges, including teeth that are uneven or widely spaced.
The process of receiving veneers usually occurs over two appointments. During the first, your dentist will take a series of measurement and create digital images of your oral profile. The lab that crafts your veneers will use this information to create the actual restoration.
During the second appointment your cosmetic dentist will place the veneers, check everything to ensure good results, and use a special light-activated bonding agent to complete the treatment. You may have a brief follow-up visit with your dentist a few weeks later to ensure the veneers are everything you expected.
Like prescription whitening, veneers have their limitations. They cannot treat teeth that are suffering from decay, physical damage, or moderate to severe misalignment. If you're dealing with those kinds of conditions, then you will probably need some form of restorative treatment such as fillings, crowns, or implants first.
How to Keep Your Smile Looking its Best Going Forward
No matter which smile enhancement method you choose, keeping your teeth looking their best over the long term takes reasonable self-care on your part. This includes:
Regular brushing and flossing. It's important to brush 2-3 times a day and to floss once a day. It's best to use a soft bristle toothbrush, as this is less likely to mar either veneers or your teeth's natural enamel.
Avoiding strongly colored foods and beverages. Not only can these products stain your teeth, they can also damage their protective enamel.
Steering clear of tobacco and vaping devices. Tobacco and nicotine can have serious consequences for your teeth and gums, not to mention your overall health.
A beautiful smile is one of the greatest assets any of us can have. Use the tips in this post to keep yours looking its best. That's the best way to enjoy the benefits of good dental health both now and down the road.
About the Author
Dr. Jane Reeves has been practicing dentistry for 23 years, ever since joining Dr. Tregre here at Deer Park in 1996. She earned her DDS degree from the University of Texas Dental Branch at Houston. Dr. Reeves has the training and expertise needed to treat many types of cosmetic dental problems. You can reach her office online or by calling (281) 479-2841.