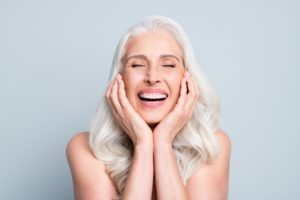 If you are missing one or more teeth, you know how your quality of life can be negatively impacted. Fortunately, you don't have to live with gaps in your smile and struggle with everyday functions such as eating and speaking! Dental implants are one of the top tooth-loss solutions, rebuilding your tooth from root to crown. They provide incomparable stability, returning to you all the natural and full functions of having a full set of pearly whites. But how long exactly can you count on your new teeth to last? Here's what to know about the lifespan of dental implants and how to get the most out of them.
How Long Do Dental Implants Last?
With a proper and consistent oral health routine, you can count on your dental implants to last several decades to a lifetime! However, the exact length of time will be contingent on several factors. First, it will be essential to take care of your restorations just as you would your natural teeth. Brushing twice daily and flossing at least once daily will keep your smile clean and free from harmful bacteria. Additionally, visiting your dentist for regular checkups and cleanings should be a priority, too. This will help to ward off gum disease and other oral issues that could potentially cause harm to your implants.
It's important to note that the lifespan of a dental implant will also depend on where it is located. Those that are placed in the back of the mouth won't have as much longevity as those closer to the front due to the excessive pressures from chewing. Also, the crown that is fitted on top of the biocompatible steel post can last for as long as 15 years before needing to be replaced from natural wear and tear.
4 Essential Ways to Preserve Dental Implants
To get the most out of your dental implants, there are certain habits you can practice. The following are some measures you can take to help your renewed smile last as long as possible:
Practice consistent oral hygiene: While your implant isn't susceptible to decay, you will want to do all you can to keep the gum tissue around it healthy and strong. This will keep gum disease at bay, ensuring your implants remain rooted strongly. As stated above, daily brushing and flossing are key.
Be mindful while eating: Though there are no dietary restrictions after your dental implants have fully integrated with your jawbone, you'll still want to be careful about eating foods that are too hard, crunchy, or sticky. Also, be sure not to use your teeth as tools, such as opening packages with them. All these things can cause damage to your restoration.
Avoid using tobacco: Smoking or chewing tobacco products limits blood and oxygen circulation, thus increasing the risk of dry mouth and gum disease. These habits can keep your dental implants from succeeding.
Maintain regular dental visits: By attending your checkups every six months, your dentist can catch and treat any developing oral health issues that could put your smile and implants at risk.
Dental implants give you a natural smile that you can rely on for years to come! With the right oral hygiene practices and help from your dentist, you will get a wonderful return from the worthy investment into your renewed smile.
About the Practice
Deer Park Dentistry is eager to help you keep your smile whole and healthy through the expertise of its team of dentists. Their goal is to provide high-quality, customized, and comfortable dental care to help you achieve any of your oral health goals or needs. They offer a comprehensive range of services, including restorative options like dental implants. To schedule an appointment, contact them through their website or call (281) 479-2841.