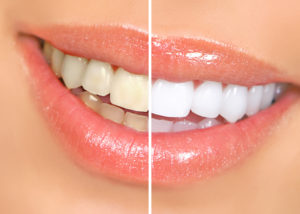 Imagine that you are getting ready for the day. You put on a white shirt and look in the mirror. Then you see it clearly right in front of you—your teeth appear yellow next to your white shirt. With so much exposure to colored foods and drinks, your teeth can become stained. Even over time, the white layer of tooth enamel can wear down, revealing the yellow layer of dentin underneath. But the good news is that you can do something about your yellow teeth! You can take advantage of your cosmetic dentist's expertise and restore your bright smile. Read on to learn more about teeth whitening!
How Teeth Whitening Works
Whether you choose to whiten in the office or with take-home kits through the dentist, the whitening agent is the same: hydrogen or carbamide peroxide. The in-office solution has a higher concentration and usually needs just one treatment, whereas take-home kits uses a slightly less concentrated gel over the course of two weeks to achieve the same dramatic results.
The general process for take-home kits goes something like this:
After the dentist has documented your teeth's original color, they takes impressions of your teeth. These are used to create custom trays that ensure even coating and whitening.
When the kit arrives, you can begin treatment. Apply the whitening gel to the tray as you've been instructed.
Wear the tray for 30 minutes to an hour as directed.
Avoid eating, drinking, or smoking for 30 minutes following treatment.
Continue treatment every day for about two weeks to get the best final results.
Benefits of Take-Home Whitening
Although in-office whitening treatment has its advantages, take-home whitening kits have many benefits in cosmetic dentistry, including the following:
Convenience. You can whiten from home while you're in your pajamas watching your favorite show on Netflix.
Gentle whitening. Although in-office whitening treatment doesn't hurt, it can leave your teeth feeling sensitive afterward. Take-home kits deliver the same results without sensitivity.
Customized treatment. Unlike at-home whitening treatments you can buy over-the-counter, the take-home trays with your dentist are made specifically for your mouth. That way, you don't have to waste any gel in application, and you can feel confident that your teeth are being whitened evenly.
Candidacy for Whitening
For many, teeth whitening can significantly improve the appearance of teeth. Especially if your teeth appear yellow or are stained from foods and drinks, you are likely a good candidate for teeth whitening.
However, not everyone is a good candidate for teeth whitening. For example, if your tooth discoloration results from medications or a tooth injury, whitening may not work to correct the problem. Although yellow teeth probably will respond to the bleaching agent, teeth with brown and gray tones may not. Also, crowns, veneers, caps, and fillings are not affected by whitening and will remain their current color.
The best way to know if teeth whitening is for you is to schedule a consultation with your cosmetic dentist. They will be able to provide helpful insight and answer all your questions. With the take-home kits, you can overcome the stains and the wear on your teeth and restore your smile's brilliant whiteness.
About the Practice
At Deer Park Family Dentistry, Drs. Tregre, Reeves, and Peck and the staff have decades of experience bringing smiles to their patients' faces. They believe that your smile should be as beautiful as well as healthy. Whether you're looking for a small improvement or a major makeover, they can deliver the results you want. To contact them for an appointment, you may call or click here.