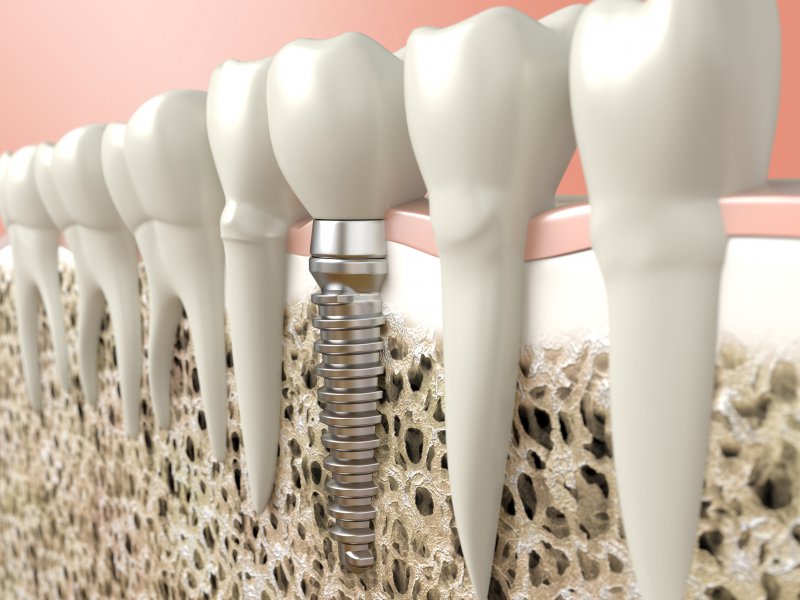 Implant dentures are the new state-of-the-art when it comes to multi-teeth restoration. They're not only more secure than traditional options, they're more comfortable and more durable as well. They allow the wearer to enjoy an unrestricted diet and an active, healthy lifestyle, free of worry about his or her dentures interfering with daily activities.
What are Implant Dentures?
Implant dentures use a set of tiny titanium posts that fuse with the surrounding bone through a natural process called osseointegration. These posts provide the full support the restoration needs in order to stay securely in place. The wearer can remove the appliance at will for cleaning and other purposes. The number of posts needed to secure the restoration varies from 2 to 4 for each jaw.
What Makes Implant Dentures Better?
The best way to understand the difference between traditional and implant-supported dentures is to think of the first option as a partial replacement for missing teeth and the second as a restoration. Here's what we mean:
Traditional dentures rely on adhesive creams for their support. They can come loose at any time, even when the wearer is eating, speaking, or engaged in social or recreational activities. This is never a problem with implant-supported dentures.
Traditional dentures require the patient to avoid certain foods; otherwise food particles could come in between the plate and the roof of the mouth and loosen the bond. Implant-supported dentures allow the wearer to enjoy a well-rounded, nutritious diet.
Traditional dentures can cause a problem called bone resorption, in which the patient's face begins shrink in upon itself. This can lead to serious cosmetic and practical problems that only get worse as time goes by. Implant dentures, on the other hand, support bone structure and contribute to a healthy appearance.
Traditional dentures require replacement every few years. Implant dentures can last as long as 25 years, making them the true long-term solution.
In short, implant dentures come much closer to restoring the benefits the patient enjoyed prior to losing his or her natural teeth. That's why implants are the treatment of choice for eligible patients.
Am I a Good Candidate for Implant Dentures?
Dental implants require that the patient have sufficient amounts of healthy underlying bone structure to support the restoration. If this is not the case, then it may be possible to correct the problem with bone grafts or other remedial measures.
The process of receiving implant dentures starts with a visit to a qualified dental professional. He or she will perform a complete oral exam, review your health history, and discuss your options with you at that time. Should the two of you agree that implants are the best solution in your case, then the dentist will schedule a date for the implant placement procedure.
Implant dentures offer modern dental patients the chance to live a healthier, happier, more fulfilling life. Talk to your dentist about this and other treatment options during your next appointment. The facts you learn maybe all you need to put a big smile on your face.
About the Author
Dr. Jane Reeves earned her DDS degree from the University of Texas Dental Branch at Houston. She has been treating patients in the Lone Star State for almost 25 years. You can reach her office online or by calling (281) 479-2841.