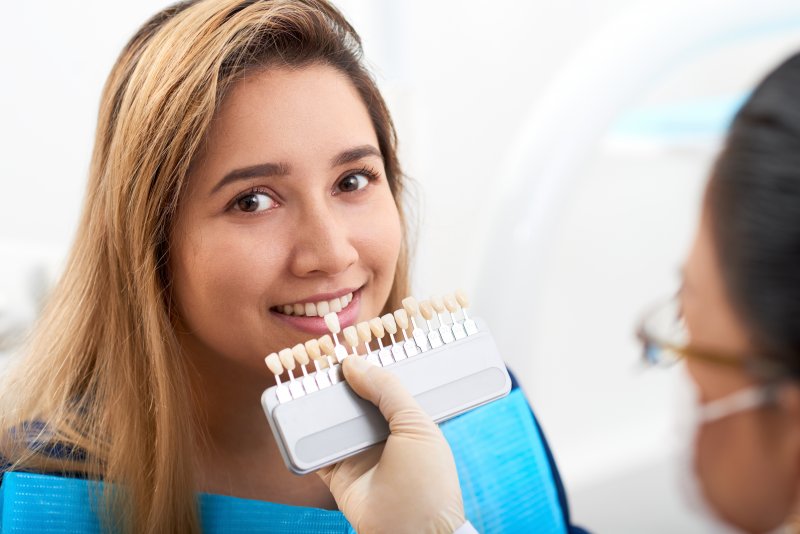 If you have crooked or misaligned teeth, you might be looking for solutions to achieve a straighter smile. Traditional orthodontic treatments, like metal braces and Invisalign, can take anywhere from a few months to a few years to complete. Some adults might not want to pursue those methods because they're lengthy, inconvenient, and uncomfortable. Fortunately, there's an option for instant orthodontics – porcelain veneers! Read along to learn more about this solution.
What Are Porcelain Veneers?
Porcelain veneers are durable, tooth-shaped shells made from dental porcelain. They're bonded to the front-facing portions of teeth, improving your smile by concealing flaws and imperfections from view. Since the material can be color-matched to surrounding teeth, the results are seamless and natural-looking – no one will even notice they're veneers! With proper dental care, you can expect your new grin to last over a decade.
How Can They Instantly Correct Misalignment?
Since porcelain veneers can transform your smile in as little as two appointments, they have coined the nickname "instant orthodontics". They can conceal a wide range of orthodontic issues, from mild to moderate. With porcelain veneers, you can achieve a straighter smile without ever needing brackets, wires, or aligner trays. In fact, your teeth will never change positions – the veneers will simply be placed over them to hide misalignment.
Here's how the process works:
During your initial appointment, your dentist will prepare the teeth for porcelain veneers placement. A thin layer of enamel is removed to ensure the veneers will fit flush against the teeth. Then, molds and impressions are taken to fabricate the prosthetics.
After your first visit, you will return to the clinic once the porcelain veneers have been created. Your dentist will test how their fit before permanently bonding them to the teeth. If they fit without issue, you can leave the clinic with a flawless new grin!
The Benefits of Instant Orthodontics
You can expect to reap many benefits with porcelain veneers, including:
Completing treatment in much less time than with traditional orthodontic treatment
Straightening your teeth without the need for uncomfortable metal wires and brackets
Unlike orthodontic treatment, there are no dietary restrictions
Additional cosmetic issues can be addressed, such as discoloration, staining, chips, cracks, and fractures
Orthodontic treatment is no longer your only solution for crooked teeth. Thanks to porcelain veneers, you can easily make the smile of your dreams a reality – and it only takes a few appointments!
About the Practice
At Deer Park Family Dentistry, we welcome patients of all ages and help them maintain their happiest, healthiest smiles. If you're tired of hiding your misaligned teeth, we can enhance your appearance and restore your confidence with porcelain veneers. In as little as two dental visits, you can have a stunning new grin! Visit our website or call (281) 479-2841 to schedule a consultation.