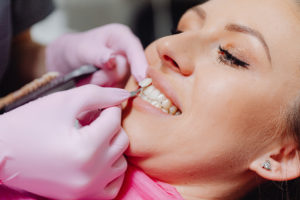 A person with an attractive smile is viewed as young, confident, and successful; however, few people have perfect teeth naturally. While discoloration, chips, or gaps are common complaints, small teeth are also a source of embarrassment for adults of all ages. If too much gum tissue is covering your pearly whites, you don't have to hide your teeth. Your cosmetic dentist has the solution you need to reveal a big, beautiful smile you'll be proud to share with the world.
Why Fix Small Teeth?
A gummy smile is more than an aesthetic issue. Too much gum tissue can make your teeth difficult to keep clean. Cavity-causing bacteria can get trapped under the tissue, increasing your risk of decay. It can also cause gum disease, which is a leading cause of tooth loss. Removing excess tissue not only enhances the appearance of your smile, but can also lead to better oral health and reduced dental expenses because you're less likely to need costly treatments later.
Options to Fix Small Teeth
You have more options than ever to invest in the picture-perfect smile you desire. While there are many treatments, porcelain veneers are a popular solution. A veneer is a customized shell that's bonded to the front surface of a tooth to improve its color, size, and shape. When applied to the teeth visible when smiling, veneers can address common aesthetic concerns using one minimally invasive procedure. Besides making your teeth larger, you can hide stains, fix chips or cracks, and close gaps between teeth.
You can turn the smile of your dreams into reality in as few as 2 appointments. You'll first need a consultation with your cosmetic dentist to ensure they are right for you. Your dentist will examine your mouth and learn more about your goals to create a personalized treatment plan. Based on the results of their examination, you may need a little prep work, like gum recontouring. Excess tissue is removed to create a larger bonding surface for your veneers.
Your dentist will remove a small amount of enamel to ensure your veneers fit your teeth like a glove. It can take the dental lab a couple of weeks to make the restorations, so you'll need temporary veneers while you wait. After your permanent veneers are sent back to your dentist, you'll return to have them cemented to your teeth. Your dazzling smile can last for a decade or longer with the right care, like brushing and flossing.
Say Goodbye to Your Gummy Smile
If you're tired of a gummy smile holding you back from feeling your best, your cosmetic dentist can help using the latest techniques in dentistry.
About Dr. Jane Reeves
Dr. Reeves achieved her dental degree from the University of Texas Dental Branch in Houston and has regularly pursued continuing education to provide a wide scope of services, including cosmetic dentistry. With over 26 years of experience, she has the qualifications you can trust. Contact our office today to request your consultation for porcelain veneers.