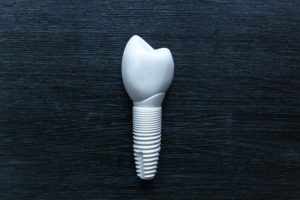 If you are missing a tooth, you have more options than ever before to fill the gap in your smile. 500,000 people are choosing dental implants to replace their lost teeth every year. A dental implant is a nearly perfect replica of your real tooth. An implant post is surgically placed into your jaw to mimic the root. Titanium is the most common material used, which can be concerning if you have metal allergies. There's no reason to worry. Here's why dental implants are a great option to treat tooth loss, even if you have some sensitivity to certain metals.
How Does a Dental Implant Work?
A dental implant is unlike any other treatment because it replaces both the root and the crown of a tooth. An implant post is placed into your jawbone to serve as a root. Your bone will fuse to it through a process called osseointegration. Although it can take several months, you'll benefit from unmatched support and stability after your jaw has healed. An abutment is placed on the post to connect your customized restoration. It will match the color, size, and shape of your real teeth to blend in when you smile.
Dental Implants and Metal Allergies
Dental implants are safe for most patients with good oral and general health, including those with metal allergies. Your dentist will help you choose the best material for your needs and safety, which can include:
Titanium: Titanium is the go-to material used for implant posts because it is biocompatible. It poses little risk of rejection or allergic reactions, which is perfect for patients who have sensitivity to other metals. It is also lightweight and durable to last for many years.
Zirconia: You may even benefit from a metal-free option. Zirconia is a ceramic material that can create a dental implant. It is made of one component that has virtually no risk of adverse reactions. Although it doesn't contain any metals, it is equally durable and aesthetically pleasing.
Benefits of Dental Implants
If you've lost a tooth, don't settle for anything less than the best. Dental implants provide various advantages that aren't possible using any other method, including:
Look and Feel Natural: The implant post is hidden below your gum tissue and your restoration will look like a real tooth.
High Success Rate: Dental implants have over a 95% success rate.
Jawbone Preservation: The dental implant is the only treatment to stop bone loss caused by missing teeth. It will keep your jaw strong and healthy to support your dental health and facial structures.
Improved Oral Health: Dental implants can stop your teeth from shifting, reducing your risk of various oral health issues, including gum disease, cavities, and additional tooth loss.
Cost-Effective Solution: Dental implants are the most cost-effective solution because they can last for 30 years or longer. They also improve your oral health to reduce your long-term dental expenses.
Your dentist will create the personalized treatment plan you need to fill the gaps in your smile.
About Dr. Jason Peck
Dr. Peck achieved his dental degree from the University of Texas Health Science Center and has regularly continued her education in various specialties, including oral and maxillofacial surgery. He is an award-winning dentist and a proud member of various professional organizations. Contact our office at (832) 780-3140 to schedule your consultation for dental implants.