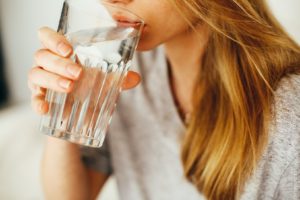 Water is crucial to stay hydrated to keep your body healthy, but your smile also relies on it. You know to avoid sodas, juices, and other sugary drinks because they aren't just bad for your waistline. They can also lead to decay. Flavored waters can seem like the ideal alternative because they provide the hydration you need while adding a splash of flavor, but are they good for your smile? Unfortunately, not all the flavor-infused varieties are beneficial for your teeth. Here's what you need to know about flavored water and oral health to stay hydrated without compromising your beautiful smile.
Are flavored waters bad for my smile?
Your enamel is the hardest substance in your body, but it isn't indestructible and can't regenerate. Once it is gone, it won't grow back, which is why you are proactive about preventing enamel loss, like drinking water over soda and sports drinks. They contain sugar and acid that can erode your enamel. As an alternative, there are many flavored water products on the market.
It can be difficult committing to only drinking water, so many people choose products that are carbonated or flavored to enjoy a little variety. Although they might satisfy your thirst, they have varying degrees of acidity, which means some may not be as healthy as advertised.
You might believe their carbonation is the culprit behind enamel erosion, but it is actually the flavors added to the water. Sweeteners are used to create the desired flavor, which can contain sugar. While they can damage your teeth, the flavored drinks are still considered safer for your smile than soda, juice, and sports drinks.
How can I protect my smile from flavored water?
If you can't resist adding sweetness to your water, it's better to use cut pieces of fruit; however, if you prefer the convenience of bottled products, your dentist has a few tips to keep your teeth strong and healthy:
Don't Swish: If you have a habit of swishing your drinks in your mouth before swallowing them, you'll want to stop because it bathes your teeth in sugar.
Grab a Straw: Although there isn't direct evidence supporting its effectiveness, many dentists recommend drinking through a straw to lessen the beverage's contact with your teeth.
Don't Sip: It's less harmful to your smile to drink your beverages all at once instead of sipping them throughout the day.
Chew Sugarless Gum: Sugarless gum will increase your saliva production to cleanse your teeth of cavity-causing residue.
Besides skipping soda and other sugary drinks, don't forget to brush and floss your teeth. You'll also want to visit your dentist regularly to promote a cavity-free smile.
About Dr. Jane Reeves
Dr. Jane earned her dental degree from the University of Texas Dental Branch at Houston and regularly continues her training to provide modern dentistry. She focuses on prevention to create healthy, beautiful smiles that last for a lifetime. If it's time for your next cleaning and checkup, contact our office today to schedule an appointment.