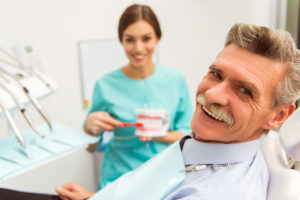 For patients who've experienced advanced tooth loss, replacing missing teeth can seem like a daunting task. However, advances in tooth replacement methods and materials, mean patients have better restorative dentistry choices than ever to repair their smile to full form, function, and flawless appearance. Traditional dentures and implant supported dentures both have their benefits, but whatever restoration option you select, the most important thing is to replace the teeth.

Why it's so Important to Replace Missing teeth
When one or more teeth are missing, the surrounding teeth have to absorb excess pressure. This increases the risk for patients to experience tooth cracks, chips, or breaks. Without tooth replacement, remaining teeth will shift to fill in the gaps in your smile. This can lead to bite alignment issues that require orthodontic intervention prior to tooth replacement. Additionally, without tooth structure to provide stimulation, the gum tissue volume, and jawbone density will break down, leading to further tooth shifting and potentially additional tooth loss.
Traditional Partial & Full Dentures
Traditional partial and full dentures are created using a gum colored base material to support numerous replacement teeth or a full row of lost teeth. Partial dentures fit between remaining healthy teeth and are held in position using metal clasps. Full dentures used natural suction between the gums and denture to hold the prosthetic in position, and some patients choose to add a small amount of denture adhesive to improve the stability of a full denture.
Dental Implant Supported Dentures
Dental implants are small titanium posts that mimic the lost root structures of teeth. This is the only tooth replacement option that restores both the roots and the crowns of lost teeth, and there are numerous benefits to choosing implant retained dentures. Partial and full dentures can typically be retained with about four implants, and these natural looking and feeling restorations are long lasting. Most patients keep their implant retained dentures for decades, and because the dentures are fixed, you can brush them like natural teeth rather than removing for cleaning. Implant supported partial and full dentures repair up to 70% of chewing function compared with just 20% with traditional dentures. That means patients are able to consume a wider variety of foods, preserving both oral and overall health.
Meet the Deer Park Family Dentistry Team
At Deer Park Family Dentistry, we are dedicated to helping patients keep their smiles whole and healthy for life, but tooth loss is still the reality for many patients. If you've experienced advanced tooth loss, talk to our Deer Park dentist and the team about tooth replacement options right away. Call our office to schedule your tooth replacement consultation. We'll evaluate your smile, discuss your treatment options, and help you make the best choice to repair your smile to full form and function.