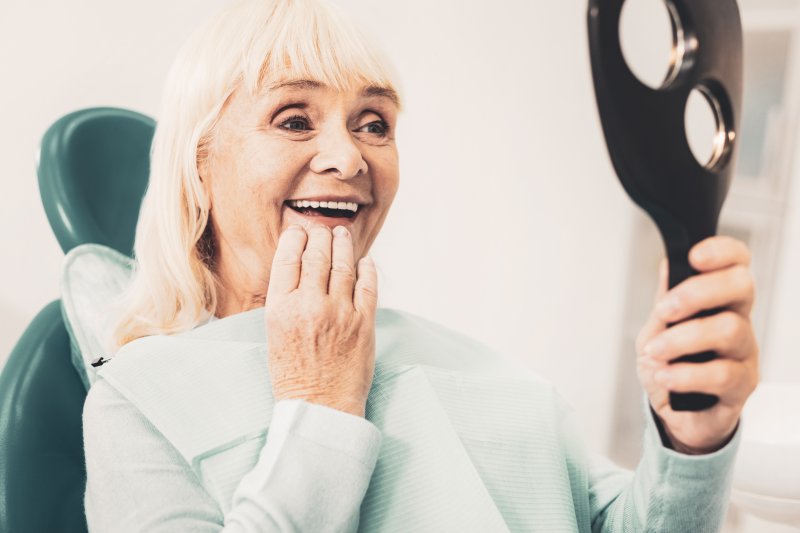 To prepare for dentures, you may need some teeth pulled first. This step would create space for your new restorations. Still, perhaps you fear tooth removal will delay your results. After all, getting dentures after tooth extraction could take a while. You'll need to adjust your schedule if the wait time is extensive. Thankfully, your Deer Park dentist can give you some help. Here's a summary of how long you might wait for dentures following tooth extraction.
Your Gums Need to Heal
To put things in context, remember that adult teeth are normally permanent. Having pearly whites pulled thus damages your gums. Once the process is over, your pink mouth tissues must heal and recover.
Given these facts, you can't get permanent dentures right after tooth extraction. Your mouth may change shape as the gums heal over time. Instead, you'll have to wear immediate dentures until you've finished recovering. That way, you won't have to worry about missing teeth while waiting on your final prosthetics.
How Soon Can You Get Permanent Dentures?
As for how long you'll wait for permanent dentures, the timing varies by patient. It's ultimately based on your recovery speed and treatment priorities. Depending on the type of denture, though, here's what you can expect:
Traditional Dentures
If you plan to get traditional, custom-made dentures, you'll likely need to wait 3-6 months. This period allows your gums to heal and lets you meet with a dentist for fittings and adjustments.
By the end of the wait, your final dentures will be a perfect fit. That means they'll work well and cause less soreness than they would otherwise.
Implant Dentures
The healing period runs longer when you add implants to the denture process. In most cases, patients have to wait anywhere from four to six months. This range gives the titanium screws time to fuse with the jawbone.
Despite the longer wait, implant dentures are usually worthwhile. They don't slip or fall like traditional ones might. On the contrary, these kinds stay secure and restore much of your bite force. Therefore, they allow you to eat tough foods without worry or stress.
Ultimately, the wait for dentures after tooth extraction doesn't have to be bad. Your patience will be rewarded with a restored smile that's beautiful and functional.
About the Practice
Deer Park Family Dental is based in Deer Park, TX. Led by its highly-experienced dentists, our practice wants to give you the best smile possible. To that end, we offer preventive, cosmetic, and restorative services, as well as emergency dental procedures. Naturally, this setup means our team also provides great replacement teeth like dentures. For more information or to book a visit, you can reach us on our website or by phone at (352)-332-6725.