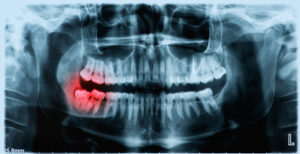 Did you know some people don't get all four wisdom teeth? Some get only two or three, and some (very lucky) individuals get none at all! Interestingly, scientists have a theory that this is simply a modern example of evolution. Humans aren't eating the same tough, fibrous diet that they were thousands of years ago and we don't need as many teeth to adequately chew our food.
But, since most people do still get four wisdom teeth, there's a good chance that you're one of them! If so, you probably have some questions, like what wisdom teeth are and when a dentist in Deer Park would recommend extracting them. In this blog, you'll learn the answer to both of those questions and more!
What Are Wisdom Teeth?
Wisdom teeth are technically third molars. The first molars come in around the age of six, while the second molars erupt around age 12. Wisdom teeth are the last set of adult teeth to come in, usually between ages 17-25.
While a lucky few have no problems with their wisdom teeth, the majority of patients need to have them taken out.
What Factors Does a Dentist Consider Before Recommending an Extraction?
It's easy to think that you don't need your wisdom teeth out if they're not hurting. However, since the procedure is a lot harder for older patients to tolerate, it's much better in the long run to be proactive and remove them before they cause problems later.
Here are some of the potential problems a dentist will be looking at when making a recommendation:
Cavities – Since many people are unable to reach their wisdom teeth with a toothbrush and floss, they collect a lot of plaque and cavity-causing bacteria. When the wisdom teeth can't be cleaned, getting cavities is a matter of when – not if!
Gum Problems – Similarly, because bacteria gets trapped around wisdom teeth where it can't be removed, inflammation and gum infections are a significant risk.
Damage To the Jaw or Other Teeth – If the gums are impacted and come in sideways or at an angle, they can cause serious damage to the jawbone or the other teeth.
What Types of Extractions Are There?
There are two main types of extractions: simple and surgical. A simple extraction can be done when the teeth have fully come through the gums. A surgical extraction is required when they're fully or partially buried under the gums. In some particularly complicated cases, an oral surgeon will perform a surgical extraction.
Many people feel anxious about having their wisdom teeth taken out, but rest assured that you'll be completely numb, and will have sedation options as well. A dentist will always make sure that you're completely comfortable throughout the procedure!
Remember, having your wisdom teeth taken out is well worth it. You'll have a better chance of having great oral health and a healthy smile – for life!
About the Author
Dr. Jane Reeves is a general, restorative and cosmetic dentist who has performed countless wisdom teeth extractions. She knows that it can be a daunting procedure and always puts patients at ease with her gentle, compassionate chairside manner. If you have any questions, she can be reached via her website or at (281) 479-2841.