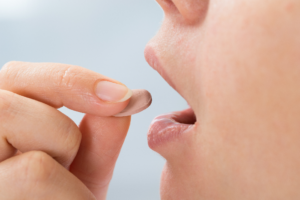 If you have an upcoming dental procedure, you may be a bit surprised if your dentist in Deer Park recently recommended antibiotic prophylaxis prior to your appointment. With the concern over overprescribing the medications an increasing concern, you may wonder as to whether they are really necessary? While you do not want to take them when they are not needed, if your dentist has advised, it is best to follow their suggestion to prevent potential complications with your procedure.

What is Antibiotic Prophylaxis?
In some cases, your dentist may suggest the use of antibiotics prior to a dental procedure to lessen the risk for a bacterial infection. The American Dental Association and the American Heart Association both recommend that patients who have certain medical conditions take this level of precaution to promote their safety during and after certain dental treatments.
When there are factors that increase your risk for infection, your dentist will recommend them for any procedures that involve manipulating or altering the gingival tissue, the periapical region of the teeth, or perforation of the oral mucosa.
Who Needs Antibiotic Prophylaxis?
Not everyone needs to take antibiotics prior to a dental procedure. Generally, it is only recommended for those who have a high risk for infection, such as:
Elderly or very young
Poor nutrition or diet
Obesity
Diabetes
Tobacco users
Existing infections
Recent surgeries or medical procedures
An extended hospitalization prior to the procedure
Congenital heart conditions
Lowered or compromised immune systems
Artificial heart valves
History of an infection in the heart valves
Heart transplants with heart valve issues
Often, the medication is recommended for those who have or have had infective endocarditis or an infection of the heart valves. This is because the complications that can occur can develop quickly and may become deadly.
What Can I Expect with Antibiotic Prophylaxis?
During your initial consultation, your dentist will discuss your medical history to determine if you need antibiotics prior to your procedure based on your individual risk for infection. If it is in your best interest, you will be given a prescription to take before your appointment. The medication will be taken orally immediately beforehand and it will be continued after the procedure as well.
In addition, you will be given follow up instructions to look for any signs of infections, such as fever, pain, swelling, or redness. If any of these complications do occur, it is important to contact your dentist immediately.
Promote a Successful Procedure
Although you may be hesitant to take antibiotics when you currently do not have an infection, if your dentist recommends them, it is in your best interest to follow their advice. With extra precaution, you will help to ensure a safe and successful procedure without any unexpected complications from an infection.
About Deer Park Family Dentistry
Deer Park Family Dentistry provides complete dental services for the entire family. While helping you achieve your oral health goals, we take pride in your safety and comfort. If you have a heightened risk for infection, contact our office today to learn more about antibiotic prophylaxis.