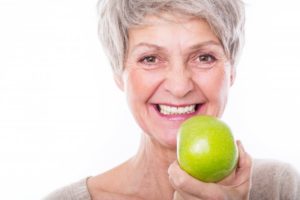 If you have missing teeth, the best thing that you can do for your whole body is to replace those lost parts of your smile. Brand new teeth can boost your self-esteem that was once plummeting from your unfortunate tooth loss—but that's not all. Your mouth and whole body can benefit from undergoing a simple dental implant process with your local dentist. Learn more about what it's like to get dental implants in Deer Park in this week's blog post.
The Process of Getting Dental Implants
If you're unfamiliar with dental implants, they are a tooth replacement that works to replace both vital components of natural teeth: the visual portion (the crown) and what resides below the gum line (the root). This helps dental implants to stay secure for literally a lifetime, working to replace your teeth in the best, most reliable way possible. However, there is a procedure that must take place to allow these implants to do their job appropriately.
Dental implants require oral surgery because the implant posts that work to replace the root must reside below the gum line (just as your natural tooth root normally would). The process of getting dental implants is relatively simple and practically painless with the use of local anesthetic, sedation if necessary, and pain medication during your healing period.
Before Getting Dental Implants
Prior to surgery, your dentist will speak with you one on one about what to expect. If the procedure makes you a bit nervous, you can discuss getting sedation during your procedure along with your local anesthetic for numbing. Since it is an oral surgery, you'll need to speak to your dentist about the appropriate times to eat before your procedure.
During the Oral Surgery
Your dentist will make a tiny incision in the gum tissue, revealing the jawbone that your implants will be placed into. This creates space to insert your titanium dental implant post permanently. It's that simple! You'll move onto the healing period shortly after your dentist closes the affected area.
The Healing Period
This period is critical to the success of your dental implant placement. Your implant post must successfully fuse with your body during a process known as osseointegration, which allows your implant to stay stable over the years, supporting your dental prosthetic. It should only take 3 to 6 months to allow your implant to heal. Your dentist will talk to you about what you should and should not do during this time to optimize your implant's success.
Getting Your Tooth Replacement
Finally, once you've completed your healing period, you'll visit your local practice one more time. This appointment is to attach your customized dental prosthetic to the implant post. You'll finally be able to see what your new tooth looks like!
Are you ready to explore dental implants in depth? Feel free to call your local dentist to schedule a consultation.
---
About Our Office
Here at Deer Park Family Dentistry, our dentists want to help you feel comfortable about your dental procedures. We take the time to walk you through them, explain what you can expect, and how to care for your mouth throughout every process. Contact us today to schedule your next visit!