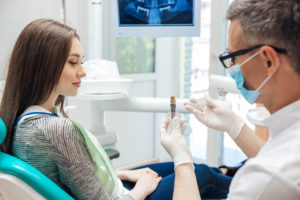 The cost of dental implants is far and away the leading factor that deters patients from receiving this treatment. While the implant supported tooth replacement process is significantly costlier than other restoration options, the long-lasting, natural looking and functioning results make this added investment worthwhile for many people. Below, we've outlined some of the factors that may impact the cost of your dental implant tooth replacement plan.

1 – Preparatory Treatments
Most people will need one or more preparatory treatments before we can begin replacing missing teeth. These services might include gum disease therapy, tooth extractions, and bone or soft tissue grafting. Depending on the extent of your treatments, preparatory dental services can add $1,500 to $3,000 or more to your bill.
2 – Dental Sedation Options
During preparatory procedures and the surgical placement of dental implant posts, you will likely want to receive some form of dental sedation. Many insurers do offer coverage for these services, but we'll need to review your individual policy to find out for sure. If you do choose to utilize sedation dentistry services, your bill may increase anywhere from $100 to $1,500 or more.
3 – Implant, Abutment, & Restoration Materials
The materials used to create the dental implant posts, abutments (attachment pieces), and your replacement tooth or teeth will also impact the pricing. You don't want to cut too many corners here since quality is important to ensure you keep your restored smile functioning as long as possible. Various dental implant tooth replacement materials can cause the price of treatment to fluctuate by thousands of dollars.
4 – Number & Location of Missing Teeth
The number and location of missing teeth will determine the type of restoration you need and the number of dental implants. In most cases, we recommend the following:
One tooth – a single dental implant and custom dental crown
Two or more consecutive teeth – two implants support a fixed bridge restoration
Consecutive & nonconsecutive teeth – two to four implants support a partial denture
All teeth – four to six implants support a full denture
5 – Dental Insurance
Unfortunately, most dental insurance policies haven't started offering coverage for implant supported tooth replacement plans, but we are hopeful more plan benefits will be available soon. In the meantime, our team members will help you maximize available coverage for preparatory treatments, replacement teeth, and sedation dentistry services when applicable.
Meet the Deer Park Family Dentistry Team
These factors will all contribute to the overall cost of your dental implant tooth replacement plan, but the only way to know for sure how much your restoration plan would cost is to schedule a consultation appointment at Deer Park Family Dentistry. During your tooth replacement consultation, one of our skilled dentists will carefully examine and assess your oral and overall health. If you're interested in getting started with a dental implant restoration or any other dentistry services from checkups to smile makeovers, call our Deer Park dental office to schedule your appointment today. We can't wait to see your smile!