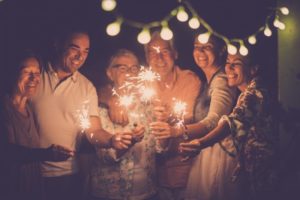 This year is finally coming to an end, and you're probably still hashing out your resolutions for next year. Have you considered adding a smile enhancement to the list? There has never been a better time to give yourself the gift of healthier and better-looking teeth. Keep reading to learn what your Deer Park cosmetic dentist has to say about why the beginning of a new year is the best time to start taking better care of your smile and how you can do it.
New Year, New Smile
You've likely heard the phrase, "new year, new you," and there's a good chance you hear it most often at the transition into a new year. If you've been wanting to feel more confident about your smile, here are a few ways that you can invest in it at the beginning of the year:
Add More Fruits and Veggies to Your Diet
As you've aged, you may have gotten out of the habit of getting your greens on a regular basis. Not only are fruits and vegetables low in tooth-decaying sugar, but they also contain high amounts of essential vitamins and minerals that help to keep teeth and gums healthy.
Drink Less Alcohol
Most people know that excessive alcohol consumption is bad for overall health, but did you also know that it can harm your gums over time? The high acid content in most alcohols can cause gums to weaken and recede and this can eventually lead to gum disease and tooth decay.
Visit Your Dentist for Regular Checkups and Cleanings
This is one of the most practical ways to invest in your oral health. Scheduling a dental checkup for the first of the year gives you flexibility to choose a time that works with your schedule and allows your dentist the opportunity to catch any issues before they become worse.
Choose Cosmetic Dentistry
Another popular way to enhance a smile is to receive cosmetic dentistry. Whether you want a straighter or whiter smile, there are a multitude of options available to you. Plus, if you make a monthly investment to a Flexible Spending or Healthcare Savings account, this is a great way to utilize those funds and meet your insurance deductible earlier in the year.
Your smile is one of the first things people notice about you, so why not make it a priority in 2021? Talk to your dentist about all the ways you can set your smile up for success in the coming year.
About the Practice
The team of doctors at Deer Park Family Dentistry is passionate about providing each of their clients with the tools and knowledge they need to take care of their smiles. They have built their practice on trust and long-lasting relationships, and they believe that everyone deserves to have the confidence and quality of life that come with good oral health. Are you ready to prioritize your smile in the new year? Schedule a consultation online or call (281) 479-2841.