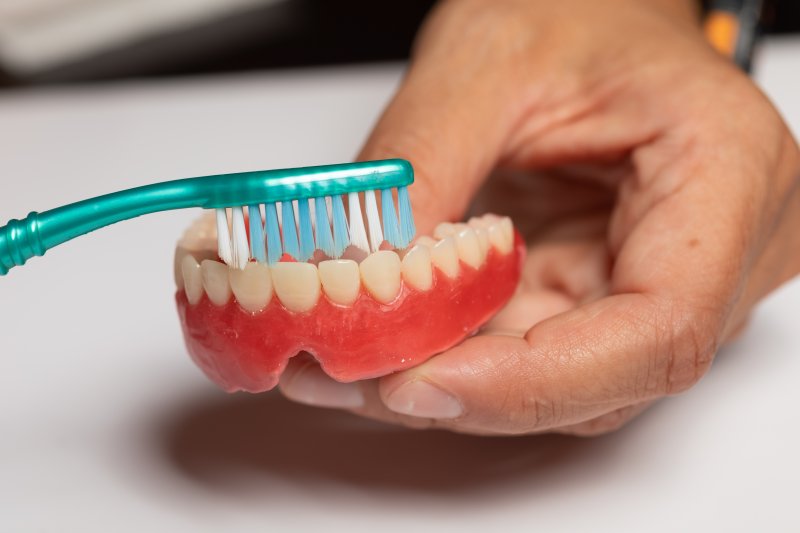 Dentures are restorations that can replace several or all of a person's teeth. Though they don't give you back your full bite power, dentures allow you to eat more foods than you could with missing teeth. They also allow you to feel more confident when smiling, laughing, and talking with friends, family, and coworkers. As helpful as dentures are for those with missing teeth, it can take some time to get used to caring for them. To help you make your new restorations last as long as possible, read on for tips on cleaning dentures and to learn if you can clean them while wearing them.
Is Cleaning Dentures While Wearing Them Okay?
Though taking the time to remove your dentures to clean them may sound like an unnecessary step, it's an important part of keeping them looking and functioning as intended. Parts of your dentures, including the area beneath the gum-colored base, cannot be properly cleaned while wearing them. For this reason, cleaning dentures while they're in your mouth isn't the best method to use.
The best way to clean your dentures is by removing them. This allows you to remove all the plaque and food particles that build up on them throughout the day and to thoroughly clean all surfaces to prevent buildups of harmful oral bacteria.
How to Properly Care for Your Dentures
So, what's the proper way to clean your dentures? Here are some tips on cleaning your restorations:
Take precautions – Clean your dentures over a soft, folded towel or a sink full of clean water so they won't break if you drop them.
Remove your restorations – Remove your dentures and rinse them with warm water to get rid of food particles.
Brush – Use a denture brush or a soft-bristled toothbrush. You should also use either non-abrasive toothpaste or denture cleaner. If you use denture adhesive, be sure to clean that away as well.
Soak overnight – After you clean your dentures, let them soak in a cup of cold, clean water or a special denture-cleaning solution overnight.
Rinse them off – Rinse your restorations with water before you put them on in the morning to get rid of any excess denture-soaking formula and avoid introducing potentially harmful chemicals into your mouth.
Getting used to cleaning dentures properly takes time, but it's worth it to know the best way to care for your restorations. This will make them last as long as possible so you can continue enjoying a bright, beautiful, and confident smile!
About the Practice
Do you struggle with cleaning dentures the right way? Drs. Jason Peck, Troy Tregre, and Jane Reeves lead a team of compassionate oral health specialists at Deer Park Family Dentistry who are here to help. They offer both full and partial dentures so patients can replace any number of teeth and get back to feeling confident in their smiles. Do you want to set up an appointment with Deer Park Family Dentistry or are you interested in learning more about cleaning dentures? If so, call their office at (281) 479-2841 or visit their website to get started.