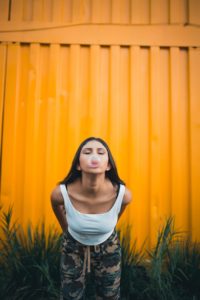 You know candy and sugary treats aren't good for your smile, so you might have cut back on your gum chewing over the years. Despite what you might have heard, chewing gum can actually boost your dental health. Although you'll want to choose one that's sugarless, here are a few ways reaching for a piece of gum can support a healthy smile.
Can Chewing Gum Damage My Smile?
Chewing gum has been around for generations. Many people believe it isn't healthy because it is sold on the same shelves as candy, but not all gum is the same. While those containing sugar can lead to decay, some varieties that can benefit your oral health.
Among the many options are brands containing a natural sweetener called Xylitol. A 2017 review found the ingredient can help neutralize acids caused by bacteria that can erode enamel. Some chewing gums also contain casein phosphopeptide-amorphous calcium phosphate, which is a substance better known as Recaldent. It has been shown to aid the remineralization of enamel to slow down the progression of tooth decay; however, skip it if you're allergic to milk.
What are the Dental Benefits of Chewing Gum?
The Oral Health Foundation reports sugar-free gum encourages saliva production, which is essential to keeping your smile clean between brushing and flossing. Your saliva rinses food debris and bacteria from your teeth to lower your risk of decay to keep your smile healthy. Here are just a few ways chewing on gum can benefit your dental health:
Prevent Cavities
Strengthen enamel
Encourage saliva flow
A study from Europe found children who chewed sugarless sorbitol gum for 2 years had a 41% reduction in tooth decay. Based on the results of the study, chewing three pieces of sugarless gum daily is a simple way to maintain your oral health.
Next time you're in the grocery store, it's best to pick up a pack of sugarless gum that has the American Dental Association's Seal of Acceptance, which says the product is safe when used for dental health. You'll also want to look for key ingredients to ensure they can help fight plaque and cavities. Chew a piece after every meal to improve your oral health while enjoying fresher breath.
Invest in a Healthy Smile
With tooth decay the biggest threat to your smile, adding gum to your daily routine is an effective solution to safeguard your smile from cavities. Don't forget to brush your teeth at least twice a day and floss nightly. Visit your dentist twice a year for a cleaning and checkup to keep your teeth and gums healthy for a lifetime.
About Dr. Jane Reeves
Dr. Reeves earned her dental degree from the University of Texas Dental Branch after working as a dental hygienist. She focuses on prevention to keep her patients' teeth and gums healthy to stop common dental issues, like tooth decay and gum disease. If it's time for your next cleaning and checkup, contact our office today to schedule an appointment.