Sedation Dentistry in Deer Park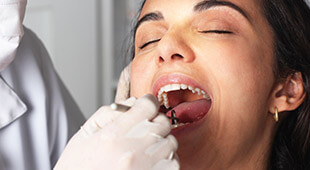 We know visiting the dentist can be stressful. Some adults simply can't bring themselves to undergo the dental care they need due to their fear or anxiety. Others are dealing with disabilities that prevent them from receiving regular dental care. For these patients, our team is pleased to be able to offer two options in sedation dentistry: nitrous oxide and oral conscious sedation.
Nitrous oxide is best for those who have mild to moderate dental anxiety and are undergoing simple treatments. Administered through a nasal mask, nitrous oxide allows you to completely relax through your time in the dental chair. Once the appointment is complete and the mask is removed, the effects of nitrous oxide wear off immediately, allowing you to go on about your day as usual.
Oral conscious sedation is better for patients dealing with significant dental phobias or mobility problems that prevent their sitting in the dentist's chair for long periods of time. It's achieved by taking a prescribed pill orally about an hour before the dental appointment. You'll need to plan for someone to drive you to and from your visit. By the time you're settling into the treatment room, its effects have taken over and you're able to glide through your procedure, completely removed from the sights, sounds, and smells of what's going on around you. Oral conscious sedation will be combined with a local anaesthetic and/or nitrous oxide to ensure you're completely comfortable throughout your treatment.
If you think you could benefit from being a little more relaxed throughout your next dental appointment -- and really, who couldn't? -- we invite you to learn more about sedation dentistry in Deer Park. Contact us to schedule your appointment today! We are happy to provide wonderful, soothing care for patients in Pasadena, La Porte, Seabrook, Galena Park and all surrounding areas in the Greater Houston area.