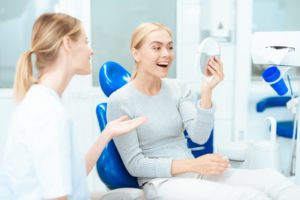 There is a good reason why a gorgeous set of teeth is often called a "Hollywood smile." Maybe you've noticed how a lot of your favorite celebrities have perfect smiles, and that's likely because they've had cosmetic dentistry done. Did you know that Tom Cruise, Miley Cyrus, George Clooney, and many more stars have porcelain veneers? They're not alone! Keep reading to learn about how porcelain veneers can also benefit you.
The Smile Transforming Power of Cosmetic Dentistry
In 2020 alone, the market size for cosmetic dentistry reached $4 billion! That is proof enough that it is clearly not just for the rich and famous. Maybe you've been considering a smile transformation and you've wondered what makes cosmetic dentistry so popular. Check out these different options your dentist has to offer and how each one can benefit you.
Porcelain Veneers
As you now know, porcelain veneers are a very popular cosmetic dental treatment of choice. This is because they can fix so many different flaws. Whether you have a chip, crack, dark stain, or even a gap in between two teeth, these paper-thin shells will be adhered to the front of your natural tooth to mask imperfections. They're permanent, strong, and can be colored to match your other teeth, leaving you with a smile that is good as new.
Tooth-Colored Fillings
Maybe you had a cavity or two filled whenever you were younger, and there's a good chance your dentist used a silver-colored substance called amalgam. As dental technology has evolved, there is now a tooth-colored resin material that is used, which will blend right in with the rest of your natural tooth. The great news is, your dentist can even replace old fillings with this new composite resin.
Professional Whitening
Have you even bought over-the-counter whitening strips or gels and been dissatisfied with the results? If so, it's time to talk to your dentist about professional whitening. They will send you home with a tray that has been custom molded to fit your teeth and medical-grade whitening gel that is sure to transform your smile.
If you're ready to have a smile that is fit for the red carpet, schedule a consultation with your dentist so they can help you decide which cosmetic dental procedure is best for you!
About the Practice
Are you searching for a dental practice where you feel at home and truly cared for? Look no further than the team of experts at Deer Park Family Dentistry. Nothing makes them happier than to see the joy that their patients derive from transformed smiles, thanks to cosmetic dentistry. With combined years of training and education, they are able to provide the highest caliber of care. Are you ready to take your smile to the next level? Schedule an appointment online or call (281) 479-2841.