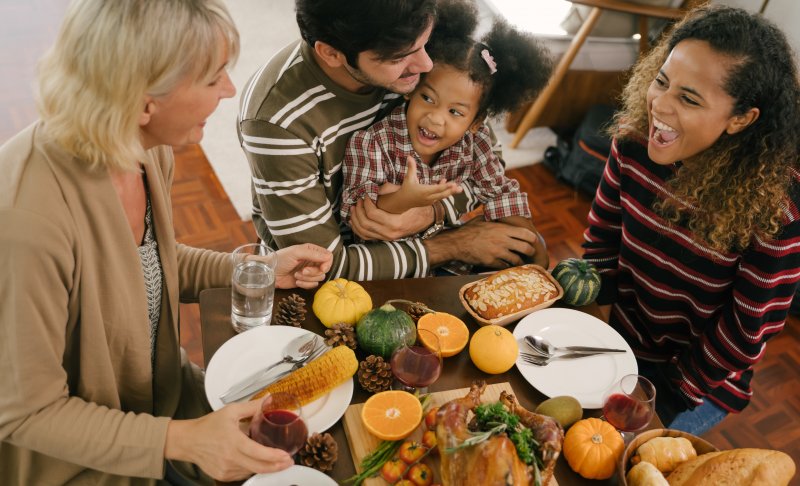 Are you ready for Thanksgiving to finally arrive? Preparing a huge meal with friends and family is a lot of fun and rewarding. However, your smile may not be looking forward to it quite as much. In fact, the holiday season may just be the worst time of year for your teeth. The good news is that there are some steps you can take to keep them healthy. Continue reading to learn some tips from your dentist in Deer Park about keep up good holiday oral health.
Keep Floss Around
It is a good idea to always have some floss on hand, especially during a long day of eating. For many, this holiday is a full day of enjoying different foods. This includes appetizers, main dishes, and desserts afterwards. If you are celebrating Thanksgiving dinner at a relative's house or somewhere else, remember to bring some dental floss with you. This way, you can dislodge stuck food between courses.
Stick to Protein
Save a large portion of your plate for healthy foods that are high in protein and other important nutrients. This includes turkey, ham, yams, green beans, and other vegetables. You definitely want to limit foods that are more on the starchy side. This includes stuffing, dinner rolls, and mashed potato dishes. They can cling to your teeth and invite bacteria to thrive. Ultimately, they will contribute to poor oral health.
Avoid Sticky Sweets
Cranberry sauce, gravy, and pecan pie are all damaging to your teeth. They are definitely dishes that you want to keep to a minimum. This is because sugar feeds acid-producing bacteria that cause cavities. If you want to have something sweet, remember to rinse your mouth out afterwards with a glass of water.
Limit the Wine
The acid in wine both stains teeth and can weaken your teeth's enamel. This is the part of your tooth that protects it from decay. However, once it's gone, it does not grown back. You definitely want to avoid foods and beverages that have a high acid content like some citrus fruits, juice, coffee, soda, and sports drinks. If you want a beverage other than water, unsweet green tea and milk are great options.
This Thanksgiving, be thankful for your teeth. After all, you use them every single day for eating, speaking, and smiling. By using the tips listed above, you can come out of the holiday season with a beautiful, healthy smile.
About the Author
Dr. Jane Reeves is an experienced dentist who has been treating patients for over 32 years. She earned her DDS degree from the University of Texas Dental Branch at Houston. For more information on how to keep your smile healthy throughout the holiday season or to schedule an appointment with Dr. Reeves, visit her website or call (281) 479-2841.