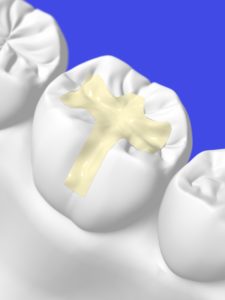 Your teeth are meant to last for a lifetime, and they can with the right care. Unfortunately, they can be damaged despite the best preventive efforts. The biggest threat to their health is tooth decay. Although cavities are preventable, 92% of adults have had at least 1 in a permanent tooth. Dentists use fillings as the most common treatment for them. You can quickly rehabilitate your smile using this affordable solution. Paying for a filling now can save you from needing a costly treatment down the road, like a root canal.
What is a Filling?
A filling is an easy way to preserve a damaged tooth. It seals a tooth and restores its health after decay is removed. This prevents new bacteria from causing future decay. Now, new innovations in dentistry make the procedure virtually pain-free.
Your tooth is cleaned, and the decay is removed before the filling material is placed into it. It is sculpted into the ideal shape before it hardens. Your dentist will check your bite to ensure you can chew and close your mouth correctly. Depending on the material used and how well you care for it, your filling can easily last for a decade or more.
How Much Does a Filling Cost?
If you have a small cavity, you may think you are saving money by ignoring it; however, if you wait too long a filling will no longer be a suitable treatment. You will need a more invasive and costly solution, like a root canal and crown.
Treating a cavity early is cost-effective, and it preserves more of your tooth's structure. There is no set amount you can expect to pay because there are various factors that influence the cost, like the material that is used and the amount needed. Silver amalgam fillings are usually the cheapest, but they are very noticeable. As an alternative, a tooth-colored filling looks natural while also costing around the same amount as a metal one.
If the price concerns you, there is nothing to fear if you have dental insurance. Most insurance policies cover 80% of the cost as part of their minor restorative coverage. The amount they pay is determined by your individual plan, and there may be limitations. Your dentist works on your behalf with your insurance carrier to reduce how much you pay out-of-pocket. If you do not have insurance, you can use third-party financing, like CareCredit.
Save Your Smile with a Filling
Taking care of a cavity early is smart for both your smile and your wallet. Don't wait until it's too late to repair your tooth.
About Deer Park Family Dentistry
Deer Park Family Dentistry strives to build generations of healthy smiles. We focus on prevention to keep the teeth and gums healthy while also offering restorative treatments in case a tooth is damaged. We can treat cavities with dental fillings and maximize your insurance to keep them affordable. If you have one that needs to be treated, contact our office today to schedule a consultation.