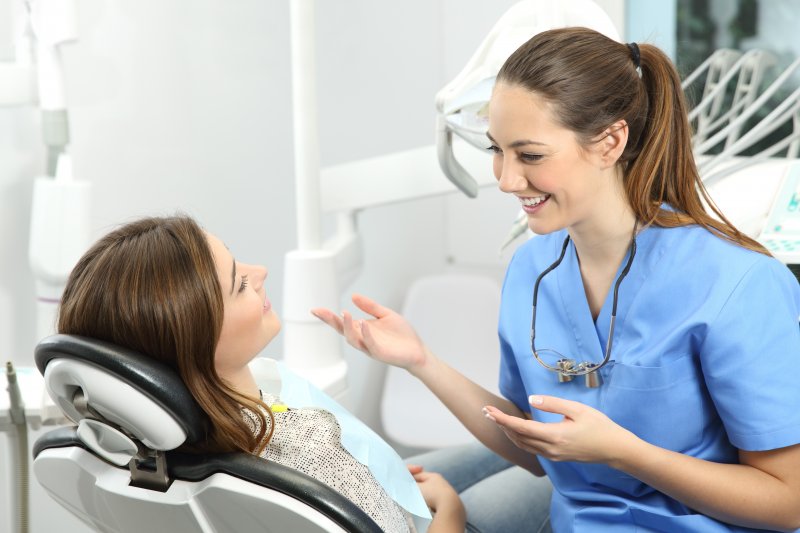 Cosmetic dentistry is a part of the dental health field that focuses on improving the look of one's smile. From correcting chipped or cracked teeth to covering up discoloration, there are a range of treatments that fall into this category. Since many dental procedures come with some mild discomfort during the healing process, you may be wondering if the same goes for cosmetic dentistry. Read on to learn whether it hurts to undergo aesthetic smile treatments.
Does Cosmetic Dentistry Hurt?
Before undergoing treatment, your dentist will give you a local anesthetic. This will numb the area so you aren't uncomfortable during treatment. Dental sedation is another helpful tool when it comes to preventing pain or discomfort during dental treatments. Your dentist will administer a sedative that will help you feel at ease throughout treatment. Sedation is particularly helpful for people who experience dental fear or anxiety as well as those who have a sensitive gag reflex, sensitive teeth, trouble reclining in the dental chair for long periods, or who don't do well with local anesthetics.
What to Expect from Cosmetic Treatment
Cosmetic dentistry shouldn't be painful, but what else can you expect from treatment? Here are a few common cosmetic treatments and what you should be prepared for:
Teeth whitening – Professional teeth whitening can lift stains from your smile for a gorgeous glow. At-home treatments use strong, safe whitening agents with custom-made dental trays. They should generally be worn for around 30 minutes per day for two weeks or so. You may experience some mild sensitivity.
Porcelain veneers – These are thin shells made of dental-grade porcelain. A small amount of tooth enamel will need to be removed so they fit snugly and adhere properly. You may experience a bit of sensitivity after the procedure.
Tooth-colored fillings – This treatment is commonly used to fill small cavities and also improves the look of your smile. Your dentist will use a composite resin that perfectly matches the shade and texture of the surrounding teeth.
Dental crowns – These are often used for larger cavities. They can also improve the look, color, function, and structure of one's teeth and are color-matched to blend with the rest of your beam. Dental crowns cover the entire visible part of the tooth. Expect a bit of sensitivity after treatment.
It's normal to experience a little bit of discomfort after undergoing dental treatment, but over-the-counter pain relievers can help dull it. With the use of modern dental technology and an exceptional dental team, you will be able to receive the care you need discomfort-free!
About the Practice
If you're on the market for a skilled team of dental health professionals, look no further than Dr. Jason Peck, Dr. Troy Tregre, Dr. Jane Reeves, and their team at Deer Park Family Dentistry. They are here to help you keep your smile functioning properly and offer a range of cosmetic dental treatments to help you feel more confident in your beam. If you're ready to make an appointment with Deer Park Family Dentistry or want to learn more about their cosmetic dentistry services, call them at (281) 479-2841 or visit their website today.