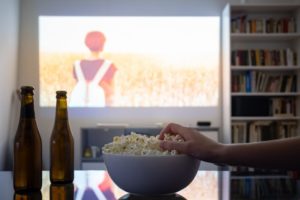 If you're being honest with yourself, 2020 probably left you a great deal of free time, and you're definitely not alone. What better time than during a world pandemic to catch up on some of your favorite TV shows and start the ones you had not had the time for yet? From 2019 to 2020,, Netflix subscriptions launched from 5 million to a shocking 167 million! When it comes to binge-watching TV, there is almost always a snack or beverage involved, and you might be surprised to hear that your Deer Park dentist says this seemingly harmless activity could be negatively affecting your oral health. Keep reading to learn more.
How Does Binge-Watching TV Affect Your Teeth?
If you didn't have your favorite snacks and drinks by your side, would it even be "Netflix and chill?" The issue lies in the fact that many of the foods and drinks that are commonly consumed while watching TV can wreak havoc on oral health if you're not mindful of them:
Popcorn
Movie night and popcorn… they go together like Bonnie and Clyde, and whether it's warm out of the microwave or flavored from a bag, popcorn is one of the most popular TV snacks. It's important to be mindful during and after consuming it that the kernels can become lodged in between your teeth and gums, sometimes without your knowledge. If not removed, they can cause infection. With popcorn from the microwave, it's also important to be on the lookout for un-popped kernels that can crack or break your teeth when you bite down. Be sure to take the time to rinse your mouth with water and floss your teeth after enjoying this salty snack so that you can keep your gums and teeth healthy.
Soft Drinks
What goes better with a salty snack than an ice-cold soda? It might make your taste buds happy, but did you know that a 12 oz. can of Coca-Cola contains nearly 40 grams of sugar? That's almost twice the amount in a Snicker's bar! While it's not great for your waistline or energy levels, the sugar also lingers in your mouth for long after you've finished the drink. It's probably not a surprise to you, but the more sugar you consume, the higher your risk of developing cavities. Instead, opt for seltzer water or a zero sugar soda option.
Wine
If you are a wine drinker, you've probably noticed how you tend to want a glass before you plop down to watch your favorite show, and this is not just a coincidence. Scientific studies have proven that wine helps to produce dopamine in your brain, which gives you feelings of contentment and ease. Interestingly enough, this same process occurs when you're watching something that you really enjoy. While it's normal to want to enhance relaxation, especially after a long day, be mindful of the high levels of acid that wine contains. Over time, if not monitored, it can wear down the enamel on your teeth, making them more susceptible to decay. Try to have a glass of water on hand as well to help continually rinse out your mouth and keep you hydrated.
Takeout
You may not have been a big takeout person before 2020, but if you're like the rest of the world, you likely had to adjust quickly when restaurants began shutting down across the country. When it comes to relaxing in front of the tube and catching up on the latest flicks, it can be easy to fall into the habit of ordering to-go items from restaurants on a daily basis. While there are a lot of healthier options out there, the truth is, you can't truly know everything that goes into your food from a restaurant. Try to have a goal to cook at home a couple of nights a week to make sure you're providing your teeth and gums with the essential vitamins and minerals they need to stay healthy. Plus, your wallet will probably thank you!
While you're binging all of your favorite shows, be sure to be mindful of what you're eating and drinking and be mindful of what you consume. Try adding in some more tooth-friendly options, such as dried fruits or crunchy veggies, so that your next movie night doesn't lead to a bad experience at the dentist's office.
About the Practice
If you're searching for a dental practice where you feel valued and listened to as a patient, then look no further than the team of doctors at Deer Park Family Dentistry. They are passionate about arming their patients with the knowledge and tools that they need to take great care of their teeth. With combined years of education and experience, they are able to provide the highest caliber of care. Are your teeth and gums as healthy as they can be? Schedule an appointment online or call (281) 479-2841.